Dropship
Now, we also provide our customers with drop shipping service.
Drop shipping is a supply chain management technique in which a retailer does not keep goods in stock, but instead transfers customer orders and shipment details to either a manufacturer or a wholesaler, that ships the goods directly to the customer. As in all retail businesses, the retailers make their profit on the difference between the wholesale and retail price.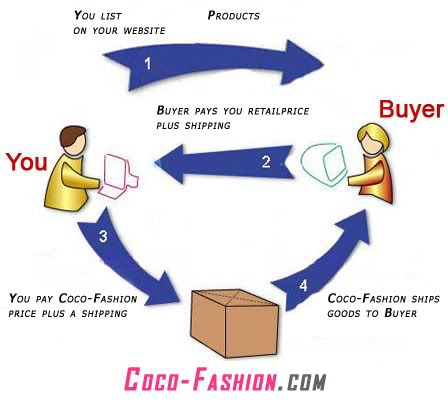 QUICK GUIDE

We know that coco-fashion.com delivery cost system could be difficult for resellers - shipping fee depends on weight of item/s. That's why we have created special website where you can simply check prices including shipping fee. This is www.koreancatalogue.com (online catalogue with pictures without watermark on them, updated everyday).
How to become our reseller (coco dropship partner)?
a) Contact our customer service (email, live chat);
b) Pay 20 USD - one time set up fee + 5 USD monthly fee - paid each month from 2nd month (paypal, credit or debit card, bank transfer); You can stop this collaboration anytime.
c) Get your own koreancatalogue.com account - we will provide you personal login and password.
d) At the beginning for our partners we offer 10% off (all items). After several weeks of collaboration discount could increase up to 15% off (negotiable individually).

How our drop ship partners use koreancatalogue?

I) as a source of pictures for their own online stores / ebay auctions
II) as pre-order catalogue (our partner provides login and password for own clients which email or call our partner with their orders)
Our advantages:
- Good quality
- Reasonable prices
- Ready stocks
- No minimum order
- Cheap registered air mail + courier services
- No need to make pre-deposits
- Proper, honest refunds policy

Live chat: click here